U.S. stocks finished Wednesday mixed to lower after disappointing data sent investors jumping to the sidelines, through an expressed commitment from Fed Chair Janet Yellen to support the economy allowed for some gains.At the close of U.S. trading, the Dow Jones Industrial Average fell 0.22%, the S&P 500 index fell 0.01%, while the Nasdaq Composite index rose 0.14%.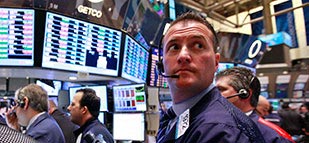 Stocks ended lower after the Institute of Supply Management said its services purchasing managers' index fell to a 43-month low of 51.6 last month from 54.0 in January. Analysts had expected the index to tick down to 53.5 in February.
Investors shrugged off payroll processor ADP's nonfarm payrolls report, which revealed that the U.S. private sector added 139,000 jobs in February, below expectations for an increase of 160,000.
Many blamed the disappointing figure on rough winter weather that disrupted commerce last month.
Earlier Wednesday, the Federal Reserve released its Beige Book, which concluded that a string of winter storms was partly responsible for disappointing economic indicators this year.Elsewhere, Fed Chair Janet Yellen said Wednesday that the U.S. central bank will do all it can to ensure U.S. recovery remains on track, as the economy is still not as healthy as it should be.
http://www.investing.com/news/stock-market-news/u.s.-stocks-end-mixed-on-data,-fed-comments;-dow-slips-0.22-270586